Top 10 DDoS Protection Companies
September 29, 2022 | By Admin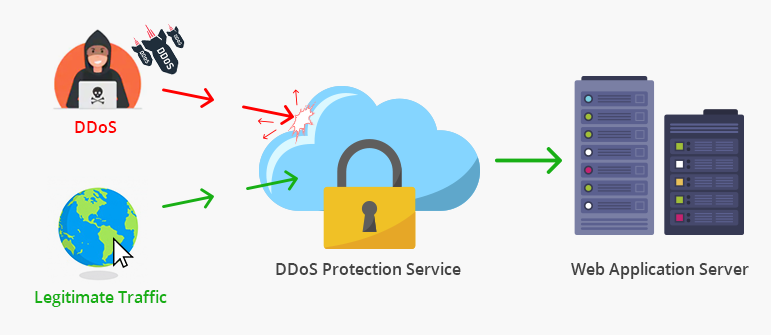 What is a DDoS Attack?
Distributed Denial of Service (DDoS) is a type of attack that involves using multiple compromised networks to target a single website. Hackers execute DDoS attacks by hijacking unprotected computers and installing malware. By using thousands of these "bots" or "zombie computers," hackers target a single web-based application or website, flooding it with a huge volume of traffic and causing the target to become unavailable to legitimate users.
Recently, DDoS protection has become increasingly difficult as DDoS attacks have now become sophisticated. DDoS attackers have moved their focus from the network and transport layers to the application layer, where DDoS protection is difficult to maintain. Exponential growth is seen in the size of attacks, and most enterprises lack the capital resources to scale their security programs to provide suitable DDoS protection.
Let's look at the Top 10 DDoS Protection Vendors:
1. Comodo cWatch
cWatch is a Managed Security Service for web applications and websites – which means they handle all the security measures on your behalf. As the most affordable on our list, it is available with a Web Application Firewall (WAF) provisioned over a Secure Content Delivery Network (CDN). If your website is affected by a DDoS attack, Comodo will know it even before you do.
cWatch's team of cyber experts monitors your website 24/7. Should an attack occur, Comodo's Cyber Security Operation Center (CSOC) team leverages cyber technology and immediately acts to prevent the attack while providing you with a detailed post-event forensic report. They leverage its WAF's virtual patching and hardening engines to offer real-time threat mitigation without impacting your site. Their free plan offers lite DDoS protection using its complimentary CDN service.
2. Verisign DDoS Protection Services
When a DDoS attack is detected by Verisign, support personnel instantly notify customers about it and recommend an ideal mitigation strategy. Besides the monitoring feature, Verisign also offers on-demand mitigation. It comprises an Open Hybrid API that allows organizations to use their existing security systems to send threat information to Verisign's cloud-based service for possible mitigation.
3. Akamai DDoS mitigation
Akamai's DDoS mitigation solution includes CDN-based, DDoS scrubbing, and DNS components, based on each customer's requirements. Akamai mitigates DNS-based DDoS attacks, besides safeguarding DNS services from DDoS attacks. It includes automated rate controls, monitoring tools, custom web application firewall (WAF) rules, traffic profiles, and workflows that prevent unnecessary mitigation actions.
4.SiteLock
This website security company offers its clients a choice of automatic "always on" DDoS mitigation vs. "on-demand." Both offerings are paid services, prices vary, and the "always-on" solution, the company's technology claims to handle "hit and run" DDoS attacks. These attacks comprise short bursts of traffic at interval levels over a long period. With automatic detection and activation, SiteLock takes complete responsibility for both detection and mitigation of the attack.
5. Cloudflare DDoS Protection
The cloud-based DDoS protection system offered by this company can deal with layer-seven attacks as well as layer-four and layer-three attacks. Instead of employing dedicated anti-DDoS hardware, all machines in its global network take part in DDoS mitigation. It has more than 15 Tbps of capacity.
6. Arbor Networks APS
Arbor Networks protects against all types of DDoS threats by employing hybrid, multi-layer defenses. Arbor's APS delivers on-premises protection and addresses application-layer and TCP state-exhaustion attacks. It applies its detection and mitigation technology for automatic, fast blocking of attacks.
7. Neustar SiteProtect NG
Neustar SiteProtect NG provides DDoS protection with hybrid and cloud-based options for scrubbing malicious traffic—with capabilities to implement countermeasures to protect a site's uptime, limit exposure, and provide automated mitigation across multiple attack vectors.
8. Radware DDoS Protection
This company provides integrated application and network security. The Attack Mitigation Solution from this company is a hybrid DDoS protection solution that is available with 'always-on' detection and mitigation with cloud-based volumetric DDoS attack prevention, scrubbing, and 24x7 cyberattack and DDoS security.
9.DOSarrest DDoS Protection
Besides protecting websites, DOSarrest also focuses on HTTP/HTTPS. Protection is also provided for APIs and mobile application servers on TCP ports 443 and 80. It offers cloud-based security that comprises DDoS protection, a web application firewall, a CDN for improved performance, website monitoring, and support.
10.F5 DDoS Protection
F5 protects against DDoS traffic targeting the networks, cloud, and applications, including DNS attacks. It can analyze network layers 3-7. F5's DDoS Hybrid Defender is capable of addressing sophisticated application attacks and blended network attacks while enabling anti-bot capabilities, SSL decryption, and advanced detection.

Related Resource