Home
>
Wordpress Security
Why WordPress Security Software?
Content Management System (CMS) is popularly used by many online businesses to create their own official websites. A popular CMS platform is WordPress. WordPress is proven to be one of the founding platforms in terms of the content management system (CMS). Instead of relaying to a website developer, WordPress allowed users freedom to design their own websites in an easier way.
How do I secure my WordPress site?
The WordPress company is doing its best to secure their users. After all, they're a business benefiting from their own customers. They'll do their best from assisting to protecting their customers from online attacks. Though, there are factors that may still lead to website security failure such human error. Read more..
WordPress Optimization Guide
Less Add-Ons - Always run plugins that are required for your site and dismiss all unused, testing, or debugging plugin.
Less Scripts - Tracking pixel affects the overall performance of a website by the increasing the browser load.
Caching Headers - Set proper caching headers on the site to minimize the number of requests.
Compression - The compressed files enable a web server to reply with a much smaller file, this helps in presenting a better experience for the user.
Optimize Images - Compressing and optimizing images for the web retains the quality and never bites the load time.
Enable Keep Alive - By enabling Keep Alive, the browser will do the handshake once and reuse the same session to download all others files.
Disable DNS Lookups - It is vital to reduce the DNS lookups and speed them up for your WordPress site.
Step by Step Instructions for Secure WordPress Sites
We're very concerned about the security of many WordPress users. That's why we dedicate our time to educating many of you to secure your WordPress website properly. Remember, WordPress gives you the freedom to maneuver your own security controls. Your own security is also in your own hands.
Step by step instructions to secure WordPress sites
Setup Website Lockdown and ban users
The 2-Factor Authentication
Use email as login
Rename your login URL
Play Around Your Passwords
cWatch can Strengthen Your Wordpress Site Security
You're an online entrepreneur who uses Wordpress eCommerce websites. The consistent news on malware and several hacking incidents makes you uneasy since it's a great deal to you and your business. Customers are now leaning towards online shopping and services. Therefore, strengthening your online security can help you avoid any other repercussions – letting you focus on growing your business.
cWatch Web software works using the Content Delivery Network (CDN) to host the website security software at strategically placed servers around the globe; it's also known as the Comodo's high capacity cloud. The technical design of Comodo cWatch delivers advantages which are ease of deployment and agile response against threats. DDOS mitigation is one of the features that fights DDOS attacks which can crash and shut down your website, thereby denying service to your legit website customers. Through that website security feature, this can increase your website traffic and win more satisfied customers.
DDoS mitigation is a set of techniques or tools for resisting or mitigating the impact of distributed denial-of-service (DDoS) attacks on networks attached to the Internet by protecting the target and relay networks.
The Benefits You'll Get:
24/7 Cyber Security Operation Center
Managed Web Application Firewall
Real Content Delivery Network
SIEM Threat Detection
Instant Malware Removal
Website Hack Repair
Full Blacklist Removal
Daily Malware & Vulnerability Scan
Website Acceleration
DDoS Protection
Bot Protection
Vulnerability Removal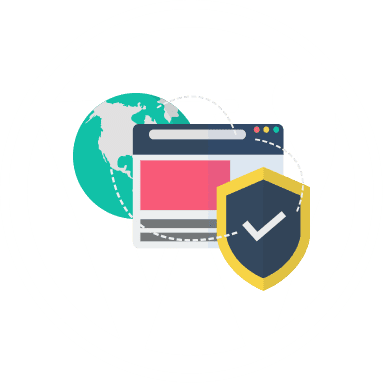 Website Protection Software Against Malware
When your website security is compromised, there's a big chance that your customers won't trust your brand anymore. In addition, your infected website can spread the malware to other affiliated websites resulting in more headaches. Comodo cWatch scans websites and provides detailed reports on malware threats, DDoS attacks, brute-force attacks, and other vulnerabilities.
cWatch provides you the following website security solutions:
Cyber Security Operations Center (CSOC)
Your team of always-on certified cybersecurity professionals providing 24x7x365 surveillance and remediation services.
Security Information & Event Management (SIEM)
Advanced intelligence leveraging current events and data from 85M+ endpoints & 100M+ domains.
Web Application Firewall (WAF)
Powerful, real-time edge protection for web applications and websites providing advanced filtering, security and intrusion protection.
Secure Content Delivery Network (CDN)
Global system of distributed servers to boost performance of websites and web applications.
PCI Scanning
Enables merchants and service providers to stay in compliance with PCI DSS.
Malware Monitoring & Remediation
Identifies malware, provides the tools and methods to remove it, and helps to prevent future malware attacks.
Good News!
On the top on all the benefits from cWatch, you'll get the initial test for free. No need for credit cards. We created a plan that suits any interested online entrepreneurs to increase their website security. The Comodo cWatch Web contains unique sophisticated web security features that are not available in other website security tools.