Secure Website: Why is Website Security Important?
October 13, 2022 | By Admin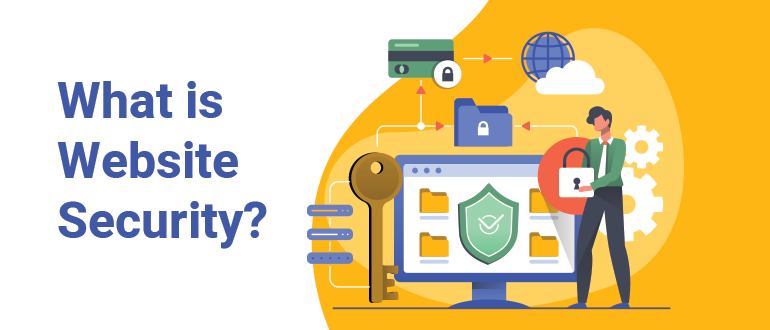 Importance of Web Security: Why Should a Website be Secure?
Website Security - All websites are prone to get attacked anytime anywhere. This is true because cyber criminals do not have a specific website in mind when they plan to execute an attack. They use programs to automatically detect websites containing vulnerabilities. These vulnerabilities are used as points of entry to execute an attack on that particular website. Vulnerabilities present on your website can be dangerous as you may not even know about them. Your host will be able to inform you when your website has malware, but they may not inform you if you have vulnerabilities.
With the development of more sophisticated cyber threats, website security is gaining more importance as website owners are now keen on protecting their websites and visitors from dangerous cyber. As we all know, cybercrime is indeed a huge business and cybercriminals are always on the lookout for weaknesses in your website. Cyberattacks are mostly caused by malware that can:
- Steal data or traffic
- Crash or slow your website
- Make your website to be removed from search engine results
- Steal sensitive customer data, such as phone numbers or credit/debit card info
Why Website Security is Important Today?
Website security is thus important to protect your business, brand, and website reputation and also prevent financial loss and shutting down of your business website. You will be able to protect your website reputation and retain customers and/or visitors. You will find it difficult to identify malware and cyberattacks. Cybercriminals specialize in malware capable of subtly entering a website and staying hidden so that your website does not get infected and you may not even realize it. The reason for such malware attacks mostly includes cryptojacking, which mines websites for cryptocurrency without revealing any symptoms, and backdoors, one variety of malware that permits cybercriminals to access a website without the owner's knowledge.
What is the Need for Website Security? - Basic Website Security
You will need the following security measures to protect your website:
-
SSL Certificate
You will first need an SSL certificate that will protect the data collected by your website as it gets transferred from your website to a server. This may be a very basic website security measure, but it is extremely important because popular search engines and browsers are currently labeling websites without SSL as "insecure". This indeed will make visitors suspect your website.
-
Web Application Firewall (WAF)
A WAF is another key component for web security as it can stop automated attacks that usually target lesser-known websites. These attacks are executed by bad bots capable of automatically looking for vulnerabilities they can exploit or cause DDoS attacks that crash or slow your website.
-
Software Updates
Security issues and vulnerabilities mostly detected in third-party plugins and applications make websites hosted on a content management system (CMS) to be at a greater risk of compromise. Such scenarios can be prevented by installing updates to plugins and core software on a timely basis, as these updates frequently comprise security patches.
-
Website Scanner
If you are very late in discovering a cyberattack performed on your website, then the cost to recover from this attack will only increase. To prevent such a situation, you will need a good website scanner capable of detecting vulnerabilities, malware, and several other security issues. A website scanner will not only remove known malware but will also look for threats regularly and instantly alert you if anything gets detected, thus reducing the amount of damage it can do to your website.
Despite these separate elements that will help you get the best web security you need, there is also a fast, simple and complete software package that will help you get all the protection you need for your website. cWatch from Comodo is one such web security tool available with automated solutions inclusive of an efficient WAF, website scanner, and other such security benefits that protect your website and the data contained in it against hackers and several other threats.
How can cWatch Provide You with Complete Web Security?
cWatch is a managed security service ideal for web applications and websites. It is the best web security stack capable of providing customers with the most advanced managed security service for threat management and monitoring. This tool can be used for cloud, on-premises, or hybrid environments.
Comodo cWatch Web offers the following key website security features:
-
Web Application Firewall (WAF)
This WAF from Comodo is powerful, real-time edge protection for websites and web applications as it provides advanced web security, filtering, and intrusion protection
-
Security Information and Event Management (SIEM)
Advanced intelligence that can influence existing events and data from 85M+ endpoints and 100M+ domains
-
PCI Scanning
This scanning procedure allows service providers and merchants to stay in compliance with PCI DSS
-
Secure Content Delivery Network (CDN)
Comodo's CDN is a global system of distributed servers capable of enhancing the performance of websites and web applications
-
Malware Monitoring and Remediation
cWatch efficiently detects malware, provides the methods and tools to remove it, and prevents future malware attacks
-
Cyber Security Operations Center (CSOC)
This center has a team of always-on certified cybersecurity professionals providing round-the-clock surveillance and remediation services
Benefits of a Secure Website:
Comodo cWatch Web will thus provide your website with the best security benefits that will safeguard your business and all private data related to your business and customers against any type of web-based attack. Install cWatch Web to run your business in a stress-free manner by holding on to your customer's trust, brand reputation, and overall confidentiality of all data contained in your website.

Related Resource