Best Website Down Checker
Website Status Checker - Websites are critical business components. Therefore, it is crucial to keep an eye on uptime status. It helps to know whether the site is available and accessible to the customers or viewers. Various website states can be determined. These are Suspended, Active, and disabled states.
Suspended Website - as an administrator, you can decide to suspend your website temporarily for maintenance purposes. Using Plesk, you can suspend a website such that it won't appear in browser searches. This suspension, however, does not affect the search engine ranking in any way. Also, management operations, such as emails, are still available.
Disabled site - In case you cease operating a website, you can disable it. When you disable a website, the hosting provider can set a default page that will display in case people search the site. A disabled website also ceases existing in the server and is no longer part of the server
Active site - An active site is available for online searching and viewing. An active website further experiences uptime and downtime states. An uptime state is when a site is available and accessible to page visitors. During downtime, a webpage is not accessible and returns a "webpage not found an error."
Ideally, it is not practical to manage your website status physically. Several monitoring tools help to do that. This website down checker tools help you to know the website Status without struggle.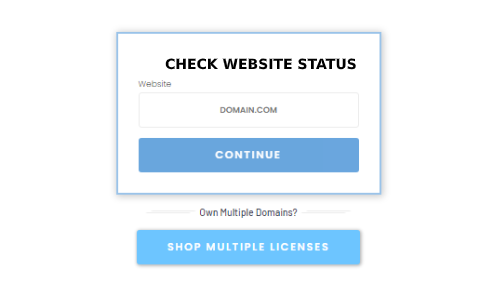 1. Comodo cWatch Website Down Checker
Comodo cWatch is one of the leading Website status checkers with servers distributed across the globe. The many servers allow you to monitor your site from different important stations. Comodo cWatch provides a variety of products and services to its users-offering them more benightment about their website's functionalities. Some of these include;
Factors affecting Site Uptime
Back up, files corruption
How to Use Comodo cWatch Down Checker
To use this website down checker tool, you don't need to add data or custom events for the tool to function. Instead of adding many snippets, you can switch on the integration tab.
After enabling the integration tab, Comodo cWatch down checker will commence the site monitoring immediately. Installing Comodo cWatch via a segment allows you to split any programming project completely.
Comodo cWatch user interface is very easy to navigate even for new users.
2. Uptime Robot Status Checker
It is a free website monitoring tool that provides a straightforward technique to manage and check your site. With Uptime Robot, you can monitor downtime in different locations. The tool also monitors your site at five minutes intervals. Then, it provides real-time account notification.
The free services offered make it possible for you to have up to 50 monitors, two-month period site logs, and monitoring intervals. Apart from the free package, there is also a premium package with more superior features and resources. These include;
Response time – As an advanced user, you can access your site's response time. The time is in the form of a chart, how slow or fast your site is.
Keyword monitoring – You can track whether the required keywords appear on a specific page. Keyword monitoring is very important when it comes to SEO ranking.
Multi-location checks – These help in eliminating false positives.
SSL certificate monitoring – it helps you to keep your page active by evading unprepared for certificate expiration. The tool notifies you at least a month before the expiry date.
Factors affecting Site Uptime
Back up, files corruption
How to Use Uptime Checker.
Enter your website's URL in the checker tool, then click analyze button.
The online website status checker analyzes your website to determine its uptime.
Finally, a status report is immediately available. Alongside the uptime report, you can access other details such as;
The title of the site
Your website hosts
Your domain name
The newest site screenshots
Comparisons Between Comodo cWatch Down Checker and Uptime Down Checker
User Dashboard
It is fair to pick a tool that you best understand considering the importance of uptime monitoring. In this case, the Comodo cWatch interface is simpler. Therefore, it is easy to use. On the other hand, the Uptime Robot offers fewer services making its UI less crowded.
Cost
The other important factor to consider is the pricing of services of the two. If you are that person operating on a tight budget, the Uptime tool is your best choice. This is because the tool doesn't charge anything. Also, even if you plan to move to a premium subscription, the charges are not exorbitant.
Comodo cWatch offers some of the best services. All the uptime monitoring features are at a cost save for the speed test.
All in all, Comodo cWatch should be your go-to website status checker.
Effects of downtime
Downtime sabotages your online reputation to a great extent. Customers, especially online, expect your website to be available 24/7. Anything short of that pisses them off, and you may end up losing many of them. Sometimes they can question your legitimacy, which is a drawback to your site progress.
Loss of sales and revenue. Website unavailability means all the revenue you get through it will be lost. The loss is sustained as long as the outages continue.
Impact on SEO ranking – Websites that suffer frequent outages are considered unreliable. This directly affects your SEO ranking. Such sites are always poorly ranked even if they had a better ranking prior.
What to do in case your Website Down
Confirm first whether the website is down for everyone. You can do this using the available free Comodo cWatch website status checker.
If you realize that the site is only down for you, the first thing to check is your DNS. If you updated your DNS recently, check whether the same has been reflected in your location.
When the site is down for everyone, the first thing is to check with your host. The steps below can also help fix the outage problem;

Perform a deep scan on your website.
Confirm whether you've paid your monthly domain subscription.
Conclusion
Your online image is very important, and everyone should always strive to achieve their best. If an unusual thing is happening on your site, move with speed to rectify it before it disrupts your business. Without this website down checker tool, this would be difficult.
To pick between Comodo cWatch and the Uptime tool, make sure you consider several factors. The fees charged, the features available, and the user interface's friendliness. For example, Comodo cWatch doesn't charge anything, and it can handle most of the monitoring needs. If you seek a combination of a user-friendly interface and good cost, you'll need to go with Comodo cWatch.
Website Checker Tool is helpful?