The site contains Malware
September 01, 2022 | By Admin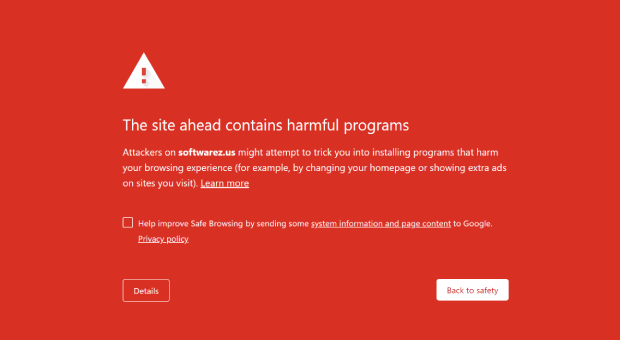 How to Fix "The Site Ahead Contains Harmful Programs" Issue
"The site ahead contains harmful programs," or "The site ahead contains malware." You've probably encountered these two errors several times on your website, or when visiting a website.
For most people, this is usually the close tab and run sign, but for webmasters, it's the one headache you need to worry about. This error occurs when Google finds malware or a harmful virus on a website, as it crawls it to index new and changed content.
The error can be disastrous, if you take too much time to react. It will affect your SEO and google ranking as Google may blacklist you – no more visibility! It'll affect your reputation and website credibility among your customers, and to some extent, it portrays some unprofessionalism on your end.
Therefore, once this error pops up, you need to take action fast. But why does it come up in the first place?
Causes of the "The site ahead contains Malware" error
Google flags a website with this error because it's proven to be harmful to its users. So, the simple reason for the error is that your site contains a potentially harmful virus, and it's using it to infect other user devices.
It can also happen if your website contains suspicious ads – ads that lead to malicious websites. Some hackers use ads to spam and deliver adware to big audiences.
How to fix this error?
Now that you know what causes this frustrating error, here's a step-by-step guide to fix it.
Step 1: Scan the website
Before taking any actions, you first have to verify that your website is indeed infected with a virus. You can use Google's safe browsing site to do this, or the Google Search console. Malware scanners can also do the trick.
Step 2: Remove the malware
Once you've identified the malware, it's time to remove it from the website completely. First, you'll have to back up your web content and files. Next, you'll have to examine all your files and delete all the files in your public_html folder. You can also use software like Sucuri, Malcare, and Wordfence to remove the malware.
Step 3: Resubmit your website to google
Once you've removed all the malware from your site, you need to alert Google that you have fixed the issue. They can then rescan your site, and if it's okay, they'll remove the warning.
How to fix "The site ahead contains malware" attack
Many times, customers and visitors to your site come across this error on your website. The error may pop up due to several reasons, but ideally, it means that you have been hacked.
As a webmaster, the error occurs because a malicious script has infected your website. It may also arise from infected themes, plugins, and files on your website.
Once Google crawls through your site and identifies these malicious tools, they blacklist your site – ensuring that visitors can't access it until you fix this error. Instead, they show them this warning page, which may vary depending on the browser.
How do you fix this error?
To restore your site and remove this "reported attack page" error, follow the following steps.
Step 1: Remove the malware
Google won't remove you from their backlist until they've verified that your website is malware-free. So, make use of malware scanners software to scan and remove any malicious objects on your site.
Step 2: Change your passwords and update software
After removing the malware, you need to change all your passwords and use only strong passwords. You also need to update all your software, plugins, and themes to the newest version.
Step 3: Request a malware review
Once you're certain you've cleaned up your site, request Google to review the website and remove the warning from your website.
Steps to Clean "Site ahead contains malware"
When you notice this error on your site, it means that Google has found deceptive content on your website. So, to protect your visitors, it has blacklisted your site until you fix the problem. At times, it uses the error message 'Deceptive site ahead.'
The error occurs when google discovers potential malicious ads on your site, or if google suspects your website of phishing.
How to remove this error?
Step 1: Identify the cause for the error
First, identify the cause of this error on your website. Use tools like the Google console or Google safe browsing, they'll show you where the malicious content is located. You can also check the last scan date for your files, to identify the infected files.
Step 2: Remove the infected files
Scan all your files and content on your website and database then remove all the infected files. Do this manually to be sure, then replace them with the files you're certain are safe.
Step 3: Contact google for review
Once you've removed the malware from your site, you can now contact google to confirm that you have resolved the issue and that your website is safe.
This website has been reported as unsafe
This error is only reported by Internet explorer users. It's an issue with the SmartScreen Filter which indicates that your website is infected with malware or it's involved in phishing. However, most times, the SmartScreen filter incorrectly reports sites as unsafe.
How do you fix this?
The SmartScreen Filter checks the websites listed on the trusted sites zone, and since your site isn't on this list, the error pops up. So, the best way to fix this issue is by configuring the SmartScreen Filter not to check this list.
You can do this on your internet explorer settings under the security tab. You can also report that the site doesn't contain threats on the Microsoft feedback site.

Related Resource