Website Checker Tool:
A comprehensive website checker tool will assist you in analyzing two crucial health aspects of your website:
Performance
Website Security
Having visibility into these two website characteristics will enable you to take a proactive versus reactive security posture.
Yet simply having visibility into a website's security posture and its performance is not enough to maintain a secured and healthy site. Because what good is it just knowing there is something wrong with your website and not knowing what to do to fix it?
Using a secure website checker that will additionally provide tips on how to improve the website security is imperative so that you can act against any risk issues and vulnerabilities and ensure your website stays clean and online.
Website Security Checker - Check your Website Fully Optimized
By analyzing the source code of your website, a comprehensive website safety checker will indicate the level of threat (high, moderate, low).
Having detailed reporting into the security status and action items to remediate such risk issues will enable you to take preventive measures such as strengthening your source code against bad actors.
Now you might be thinking that your web developers did a great job when building your website and so why would you need to use a secure website checker, right?
Unfortunately, cyber criminals are continuously evolving their hacking techniques in order to crack any newly developed source codes. In many cases, unbeknownst to you, they embed hidden code within your website. So, in order to stay ahead of these bad actors, implementing the use of a website security checker to continuously check on any attacks against your website will keep you updated on your site's health.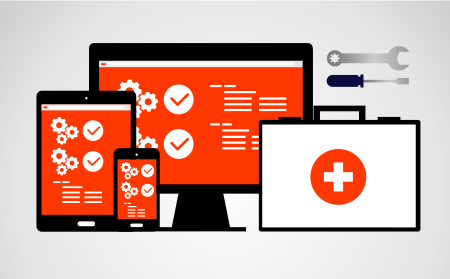 How Does Website Checker Tool Work?
Regardless of the technical complexities behind checking a website, the process for using a website security checker should be as simple as:
Copy/paste your website's URL
Depending on the complexity of your website, receiving the results can take as little as a couple of minutes.
There are several website checker tools available and the results/reports they provide vary depending on each. The better website analyzer is one that provides a comprehensive report alongside recommendations and action items to improve your security posture.
Why Comodo cWatch Website Security Check?
Comodo has been creating trust online for years. It continued the pursuit of its company mission to completely protect the online community. First as a staple in the SSL certificate industry and now by providing website security checkers through their cWatch Web solution.
Comodo cWatch offers a free website security checker tool called, the cWatch Site Score Scanner (https://cwatch.comodo.com/sitescanner/).
Not only is this tool as easy as the listed 3 steps above but it also provides a detailed report of scan results within minutes (depending on the complexity of the website).
This is a comprehensive website checker tool as it provides insight into six categories:
REPUTATION: displays the website's reputation based on factors like whether the website has an SSL certificate or not, whether the website has been blacklisted or not etc

CMS: displays any CMS related vulnerabilities

MALWARE: States, if it has been detected, is any malware has infected the website

WEB APPLICATION RISKS: displays the various risks your website might be facing

CONTENT SECURITY: displays suspicious content like iframes and links

HTTP SECURITY RISKS: displays any HTTP related issue which might be existing
Website Checker Tool is helpful?
About Comodo cWatch, Secure Website Checker Tool
The Comodo cWatch secure Website Checker Online Tool is just one of the many tools within the cWatch Web solution. As a fully managed and comprehensive website security solution, cWatch Web offers:
Increased Upload Speeds through a Global Content Delivery Network

Simplified Dashboard for Traffic Visibility

Security Information and Event Management

On Demand Security Analysts
cWatch Web offers various tiered plans to accommodate various website needs. From a free plan, called the BASIC plan, which is ideal for those who just need scanning capabilities or for those who prefer letting cyber experts ensure their website is always protected and clean, called the PREMIUM plan– there is a plan for everyone! keep your website protected now before a hacker connects with it..
Website Vulnerability Scanner Online