DDOS Attack
What is a DDoS Attack (Distributed Denial of Service Attack)
It 's a natural thing to expect that you'll get a ton of cyber attacks once you get into the online business. One of the threats you need to look out for is a DDoS attack. What does DDOS aim to do with innocent online business owners? A Distributed Denial of Service Attack's goal is to render a server, service, or an infrastructure unavailable by overloading the server's bandwidth or monopolizing its resources to the point of decrease.
DDoS Attacks can happen in such a long time that it can cause financial loss to your online business. When customers get in your website, they will see a warning sign immediately saying that they can't enter the website temporarily due to the high volume of users. Some technical staff and users might not actually realize that the website is already under attack.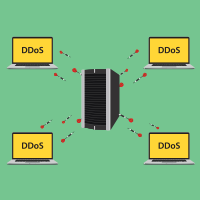 How to Stop and Prevent DDoS Attack
There are many effective ways to fight DDoS Attacks. First, you should also have a specialized software solution and distributed hardware equipment. Hence, the problem of fighting DDoS attacks is not what small and medium-sized businesses ready to face. Secondly, you must monitor your website performance metrics. Lastly, you must secure your capability.
DDos Attack Detection
First of all, you need a software tool to protect you from DDoS attacks. Usually, Distributed Denial of Service Attacks are undetectable through manual checking. You have to make sure that your software tool has an ability called DDoS mitigation. This gives you an alert and helps you fight unwanted DDoS attacks to stay safe.
Monitoring Website Performance Metrics
For people, bandwidth is an important metric. They want bandwidth that can handle many users as must as possible. Though, there are things they might not know. Networking devices ultimately process network packets, which typically vary in size. Small packets use less bandwidth, while large packets amount to larger bandwidths. An attacker can stress out the infrastructure quite quickly by sending many small packets at a high rate – especially traditional security infrastructure such as firewalls, or Intrusion Detection Systems.
Measure Your Capability
When Distributed Denial of Service Attacks enter the network with extreme packet-per-second rates, you need a mitigation solution with adequate packet processing power. It is also an important consideration to measure the analytics infrastructure. Flow technology scales rather well, but at a massive cost: it compromises coarseness and time-to-mitigate.
If you requested for realistic performance from your vendor, don't be surprised. Your number might be very low. Nowadays, DDoS Attacks are launched simultaneously. Datasheet performance figures provide a good indicator to match the product to your needs, but it is advisable to test your prospect mitigation solution.
Cwatch: All-in-One Tool
Comodo cWatch is here to simplify all of that tedious and complicated steps. It is designed into a package where it has Managed Security Service for websites and applications that combines a Web Application Firewall (WAF) provisioned over a Secure Content Delivery Network (CDN). It is a fully managed solution from a 24/7 staffed Cyber Security Operation Center (CSOC) of certified security analysts and is powered by a Security Information and Event Management (SIEM) that leverages data from over 85 million endpoints to detect and mitigate threats before they occur.
In terms of sites that web security scanner online, cWatch as one of the free web security scanner online can give you the following benefits aside from its technical capabilities:
Saves Time and Effort
You don't have to worry about the pesky dangers of malware single every day. All you got to do is to check web security scanner online and install cWatch on your website. It'll do the rest of cleaning and be protected as a website security check tool.
Risk Reduction
Why wait for the moment of danger to come? Through the intensive activity reports of the web security scanner online, you plan effectively before a malware attack. The best cure is prevention. Check website vulnerability tools on the Internet now.
Cost Saving
Trying the free web security scanner online can prevent you from spending more money on paid web security scanner online from Google.
Dodge DDoS Attacks Easily
Luckily, Comodo cWatch Scan Test can be used by first time users for free. No credit cards needed. You don't have to check website vulnerability tools from other companies just to see if they work. If you wish to continue using cWatch further, there's an available, affordable subscription tier for your needs. Please visit our website to know more about DDoS Attack (Distributed Denial of Service Attack).
Related Resource
How to Protect against DDoS Attack
How to DDoS Someone on your Network
How to Protect My Website from DDoS