What is Security Monitoring?
Web security monitoring refers to the automated process of collecting and examining indicators of potential security threats, defining which types of behavior should trigger alerts, and then taking appropriate action on the detected threats.
Why Security Monitoring Software?
Most companies are constantly exposed to security threats of varying severity in the normal course of conducting business. These threats could arise from malware, hackers, careless employees, vulnerable or outdated operating systems and devices, mobile and public cloud computing, and third-party service providers. With the ubiquitous, unavoidable nature of security risks, speedy response time is essential to maintain system security. Automated, continuous security monitoring is thus considered to be the key to quick threat detection and response.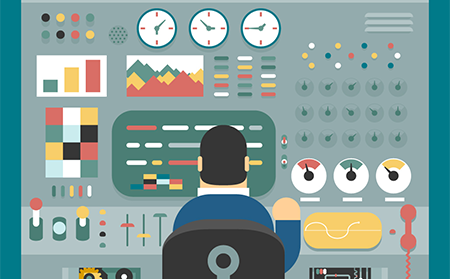 Security Monitoring Needed for All Business Websites
The growth in Internet use has resulted in a rapid increase in the number of security breaches experienced by businesses. One of the most effective ways to protect a computer network connected to the Internet from unauthorized outside access is a firewall. A firewall is a hardware security device installed between the Internet and a computer network. It functions as a Web server, and routing traffic, and also blocks external users from accessing the internal computer system. However, it should be noted that a firewall cannot protect information after it leaves the network. Encryption is a popular method used for preventing third parties from capturing data while it is sent over the Internet. Encryption programs place the data into a scrambled form that can be read-only with a key.
Even small businesses can prevent unauthorized access to their computer systems as a variety of security monitoring software are available even for these businesses. One of the most common methods refers to the authentication of users via passwords. Since passwords can be stolen or guessed, a few companies make use of more sophisticated authentication technologies, such as voice recognition software, retinal scanning systems, coded ID cards, or handprint recognition systems. All of these systems are capable of verifying that the person requesting access to the computer network is an authorized user. They also allow tracking computer activity and holding users accountable for their use of the system. It is also possible to use digital signatures to authenticate e-mails and several other outside documents. This technology thus helps in providing proof of the origin of documents and preventing e-mail spoofing.
To execute these preventive measures and many more, you should consider installing a good and reliable Web security monitoring software like cWatch developed by Comodo, a cybersecurity company. Let's see what cWatch has to offer you to meet the requirements of a trustworthy security monitoring software.
How cWatch Web Serves as Security Monitoring Software?
Comodo cWatch is one whole comprehensive continuous monitoring solution ideal for internal and cloud network security that is specifically tuned for detecting threats even before they can affect your databases, servers, or critical infrastructure. cWatch provides constant monitoring and reporting of a system, user activity, network, and data access in combination with detailed analysis and correlation capabilities.
cWatch Website Security, part of the cWatch Breach Prevention and Compliance Platform, takes web application security to the next level by offering a managed Web Application Firewall (WAF) service designed for monitoring all your critical business websites and applications including the underlying operating systems.
cWatch Web Security is available with enhanced detection capabilities, including dynamic, static, and expert human analysis and machine learning. These detection capabilities enable cWatch to provide comprehensive web application security on-premises and in the cloud and hosted environments, all without the risk of latency and slowdown. cWatch Web Security is a fully managed service for websites and web applications that combines a Web Application Firewall (WAF) provisioned over a Secure Content Delivery Network (CDN). This solution is provided by a 24/7 staffed Cyber Security Operation Center (CSOC) of certified security analysts and is powered by a Security Information and Event Management (SIEM) feature capable of leveraging data from more than 85 million endpoints to identify and mitigate threats even before they occur.