Your website could suddenly display an error message that prevents you from further using it as that could result in a negative impact on your business and identity. You could come across error messages like:
Deceptive site ahead
The site ahead contains malware or
This site has been marked as a phishing site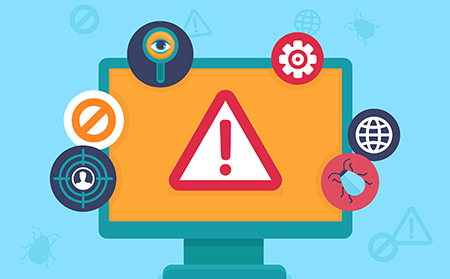 In most cases, these website restore errors highlight that the website is experiencing a website hacked situation. The hack itself could range from being a simple infection to a majorly hazardous and sophisticated one. Additionally, the hack aims at introducing a virus on the website. Another reason that you could be experiencing the error is low-quality ads from suspicious sources. These ads could contain a harmful code or may link to pages that can cause further infection. You can prevent and fix website restore errors and protect your website from getting hacked or malware infected by installing Comodo cWatch Web Managed Security Services (MSS). Comodo's Cyber Security Operations Center provides qualified security analysts for monitoring, evaluating and then defending websites, databases, data centers, applications, servers, networks, desktops and other endpoints for customers. It also processes vulnerability information from network, web and application vulnerability scanners.
Website Protection Features Offered by cWatch Platform
PROTECTION AGAINST FUTURE ATTACKS
cWatch provides a well and organized website firewall that is capable of:
Blocking Malware attempts:

Website code which has errors is vulnerable to any kind of malware attack. Website traffic to block malicious attacks is filtered.

Stopping Zero-Day Exploits:

New types of malware and vulnerabilities have been identified almost every day. This firewall works efficiently in order to obstruct malicious behavior even when there is no patch.

Mitigating DDoS Attacks:

Ensures to obstruct layer 7 (HTTP Flood), and layer 3 and 4 as well. Hence, the Distributed Denial of Service is mitigated preventing the impacts on downtime.

Obstructing Brute Force:

Automated hacking methods can attack any website. Your website can be abused, in any case when a malicious software obtains access to the login credentials.
REGULAR WEBSITE MONITORING AND DETECTION
cWatch monitors and scans a website to prevent the website from getting hacked.
Blacklists and Malware:

Efficiently scans websites on any signs of hacks and alerts from blacklist admins. This would help you to immediately react with the help from Comodo's analysts.

Alerts and Reports:

The alert system prompts you via email, RSS, SMS, or Slack. Weekly or monthly reports generated and sent through emails.

Lightweight and Robust:

The monitoring system is instant, quick and lightweight for any environment and is also consistent to address the malware attacks.
REGULAR WEBSITE MONITORING AND DETECTION
You can get your website back from hackers by using Comodo cWatch and all your website related issues will be addressed by the security information and event management team.
Affordable:

Efficiently scans websites on any signs of hacks and alerts from blacklist admins. This would help you to immediately react with the help from Comodo's analysts.

Quick and Responsive Support:

Provides a 24/7 team of cybersecurity experts ready to fix your website

Repair SEO Spam:

Detects and removes any spam keywords in your site

Website Malware Removal:

The containment technology ensures that all threats have been detected and removed including unknown malware

Blacklist Warning Removal:

Browsers and search engines blacklist hacked sites in order to protect users; ensures to remove the blacklist from your site.
To sum up, Comodo cWatch is thus a protection tool for your web applications, websites and web servers against the growing instances of hacking threats all over the world. This is a complete website security solution capable of providing early detection, instant remediation, and practical preventive measures. Product features are listed below for your easy understanding:
Malware Remover: Detects malware, provides the methods and tools to remove it and also prevents future malware attacks
Secure Content Delivery Network (CDN) Performance: A global system of distributed servers to improve the performance of web applications and websites
Security Information and Event Management (SIEM) Intelligence: Enhanced intelligence leveraging current events and data from 85M+ endpoints and 100M domains
Web Application Firewall (WAF) Protection: Real-time edge protection for websites and web applications offering advanced filtering, security and intrusion protection.
Cyber Security Operations Center (CSOC) Analysts: A team of qualified cybersecurity professionals providing round-the-clock surveillance and remediation services
P.C.I. Data Scanner: Enables service providers and merchants to stay in compliance with PCI DSS.