Thousands of new malicious websites are detected every day by Google. Some of these badware websites are developed for malicious purposes, but most are legitimate business, academic, personal, and other sites that have been infected without even the knowledge of their owners.
If Google detects badware on your website, you or your visitors may see a warning saying, "This site may harm your computer." If Google has detected malware on your site, it will furnish you with details about bad code their systems detected on your website. Google will typically send notification emails to the following addresses on your site:
administrator@
contact@
info@
abuse@
admin@
webmaster@
postmaster@
support@
The remaining part of this article will help webmasters remove website hacks and Google warnings allowing them to restore websites and reclaim visitors, revenue, and SEO rankings.
Review Warning Status
Recognize website security warnings

Your website gets blacklisted because Google scanned your website and detected harmful behavior. Google is responsible for protecting its users from dangerous websites that show up in their search results. Websites that repeatedly get blacklisted for malicious behavior are limited to just one review every 30 days. The big red splash page including the warnings next to your website in Google's search results have been designed to prevent visitors from entering your website. Websites actually lose about 95% of their traffic when blacklisted by Google.

Review diagnostic pages

All the red warning pages will link to another page that explains why the website is being blacklisted by Google. The main button on the page is for visitors, and mostly reads something like, Get me out of here or Back to safety. However, there is always another link for the website owner to find out more.

Scan for malware

For efficient malware scanning, you can use Comodo cWatch – a web security tool capable of efficiently detecting malware, removing it and also preventing further malware attacks. our free tool, Comodo, to scan your site and find malicious payloads, malware locations, security issues, and blacklist status with major authorities.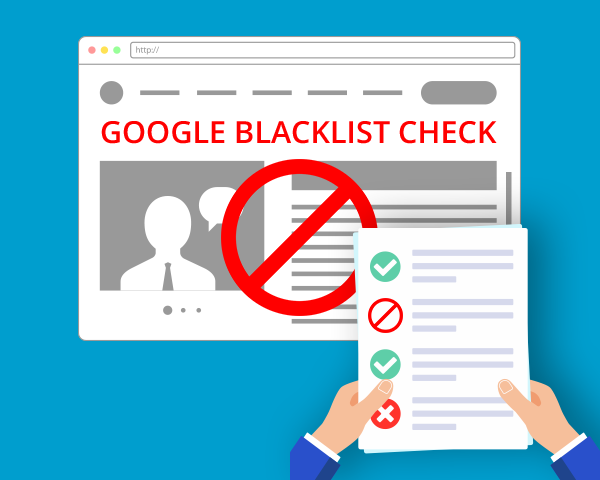 Fix Blacklist Symptoms
Final Steps
Benefits of using the Comodo WAF
Other layers of protection offered by the cWatch web security tool include: