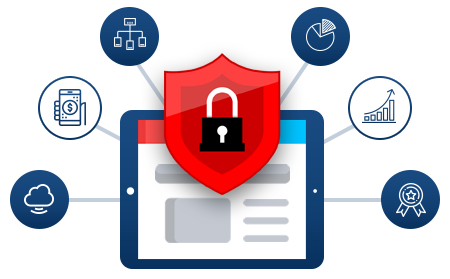 How Cyber Threats Prey On Innocent Businesses
Every day, businesses fall victim to the many scams on the internet. Therefore, organizations should safeguard their company, employees, and customers. Don't potentially ruin your business at the hands of cybercriminals and lose out on the lucrative online market place. Complacency is a hacker's best friend. So instead, take a proactive stance on your security strategy by learning about some hacking methodologies. Here are some common traps:
Social Media
Do you love surfing Facebook, Instagram, LinkedIn, and others? You probably heard many people being victimized by sketchy links found on those platforms. These links can install unwanted programs that carry ransomware. But do you ever wonder why people fall into these traps? It's because people are more likely to click on links shared by their social media friends. So be careful of links even when posted by your friends.
Online Extortion
Just like criminals steal cars and kidnap people for ransom, they also freeze your personal information and files. Then force you to pay hundreds of dollars to buy your own information back. In 2014, this type of cyberattack surged 113% creating a new class of victims.
Technically Tailored Attacks
Cybercriminals may also show off their "advanced skills." They'll come up with targeted attacks like malware, phishing, and ransomware. These attacks are often strategically executed and performed with special software.
These are only a few of the attacks that not only effect businesses – but also the general public. Due to the impact of these attacks, it's very important that businesses implement a comprehensive security strategy. Ideally the first step is to incorporate a security solution that features layers of protection in addition to advance technology. Moreover, optimizing the technology, your solution suite should be backed by knowledgeable cybersecurity experts. cWatch Web security provides a suite of fully managed solutions so you can focus on what matters most, your business.
cWatch Web: The World's Most Powerful Website Security
To tackle the vast variety of threats online, it's best to use a website security solution that will provide comprehensive managed protection. Having knowledgeable cybersecurity experts on your team working 24/7/365 against today's hackers and maintaining your website online will save you time, frustration, and money. With cWatch Web, you can do this for less than a dollar a day!
cWatch Web is the most secure website safety solution for businesses. By combining a Web Application Firewall (WAF) provisioned over a Secure Content Delivery Network (CDN) with an around-the-clock Cyber Security Operation Center (CSOC) of certified security analysts powered by Security Information and Event Management (SIEM). This powerhouse of cybersecurity services leverages data from over 85 million endpoints and uses actionable intelligence to detect and mitigate threats before they occur.
Here are some short descriptions of features that cWatch incorporates on its innovative stacked security solution to strengthen the defense of your website:
Malware Detection & Removal
Identifies malware, provides the tools and methods to remove it, and helps to prevent future malware attacks.
Secure Content Delivery Network (CDN)
A global system of globally distributed servers increasing the performance of websites and web applications.
Security Information & Event Management (SIEM)
Providing actionable intelligence leveraging current events and data from 85+ million endpoints & 100 million domains – minimizing 'alert fatigue' by providing real-time data.
Web Application Firewall (WAF)
Powerful, fully managed real-time edge protection for web apps and websites providing advanced filtering, security, and intrusion protection.
Cyber Security Operations Center (CSOC)
Your team of always-on certified cybersecurity professionals providing 24/7/365 surveillance and remediation services.
Payment Card Industry – Data Security Standard (PCI – DSS)
Enables merchants and service providers to stay in compliance with PCI DSS avoiding audits, fines, and penalties.
cWatch Web customers are protected with 6 layers of best in class, heavyweight, enterprise-level security technology all at an affordable price point. You can simply choose your choice of website security solutions and apply it to your website safety protocol. Protecting your website every day using these comprehensive solutions can give you peace of mind. Visit https://cwatch.comodo.com to request a demo or connect live with us from our 'Contact' page.