How to See if a Website is Safe
How to See if a Website is Safe Site or it is a Source of Threats/Scams?
Today, more and more people are becoming engaged and informative on the internet with each passing day. Unfortunately, it has also become a new path for attackers, cybercriminals, hackers, and many other malicious sites that are crashing websites with everything to trick visitors.
Also, as per the data collected in 2019, people have lost more than $500 million in one year due to online scams. Therefore, every visitor must be careful when surfing websites and only visit safe websites.
Look for these six signs that a website is safe:
In this post, we are sharing a few points on how to see if a website is safe and protect you from various scams and threats.
1. Double-check the URL
You would be completely surprised by the number of people who pay little or no attention to their browser's address bar. The address bar contains a ton of vital information about your location and level of security.
So the next time, if you visit or connect to a website, look at the website URL. If it starts with https: // and displays a green icon, it means it is secure. HTTPS means that all communication between your browser and the website is encrypted and reliable and can protect you from several types of spy threats, such as man-in-the-middle attacks.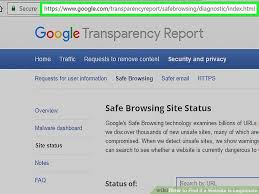 2. Do a little research and look out for contact information.
If you've gone through the first steps and still confuse if a website is safe or not, trust your gut, and before you start scrolling, do some basic research on the site. Find the contact details of the site you came across. Most websites provide a phone number at the bottom of the page in case someone has questions. Some websites also provide their office address.
So, before you formulate any transaction, make sure the website has provided you with valid personal information/contact information that can help you hold someone responsible if any problem occurs in the future.
3. Make sure you are running endpoint protection software.
Having a website with an encrypted connection is also not useful if you are connected to a malicious website. Unfortunately, there is no visible sign that a site has been infected.
So if you are connected to a malicious website with a green security device, your connection will be encrypted. But that doesn't mean that a malicious website will suddenly become a safe website.
Online skimmers like an official website that has a green padlock and an incredible reputation that has lasted for decades can also suck up your credit card details. This is why it is essential to use terminal protection that blocks threats, which deploys online skimmers.
4. Check Trust Seals
Whenever a company invests in the safety of its customers, it makes sure to take out some credit. This is the main reason for the existence of seals of trust. You can come across various trust seals on the internet during any transaction such as McAfee, PayPal, Norton Secured powered by Symantec, Google Trusted Store, etc.
These trust seals are usually placed on the home page, login page, or payment pages of a website. These seem to be regular signs, but these seals are the sign of security at the specific site. You can also click on it to learn more about their safety.
5. Use a VPN for privacy
Still, if a website you are visiting is encrypted by HTTPS, your Internet security provider can always identify the sites you are looking for and could use or sell your data depending on the laws of the country you are living in.
Hence, in such a situation, a VPN can help to protect your privacy. As rather than entrusting extracts of information about your browsing habits to a local ISP, you now have the possibility of encrypting the entire communication between your PC or mobile device and the VPN provider.
6. Additional Safety Measures You Can Take
Knowing how to see if a website is safe can take you a long time when browsing online. But you still need to take extra security measures when surfing online, because the internet is a scary place. You can use these tips to see if a website is a safe site or it is a source of threat.
When you browse any website, your browser can give you access too many tools that help you protect yourself from online threats. For this, you have to go to your systems browser's settings menu and find "advanced settings" from there, you can find security options. With this feature, you can help various cookies, block ads, and keep your location private.
Anti-Virus act as a fence between you and the potential damage that can cause you inconvenience. This will not only stop all downloads that are unauthorized but will also save you from a deluge of pop-up ads every time you visit a website. The best part of anti-virus software is that it comes with a browser extension, which means it can help you determine if a website is safe or not for use.
Conclusion
If you are not sure how to see if a website is safe or not for use, it is better to bounce back. It is good to be careful and not to fall in any online scam or threat, which can leak not only with your data but also your privacy. Plus, a little information and carefulness can help you in the long run.