When you think of a website hacked and infected with malware, the sites that come to mind are pharmaceutical sites or sites that load you with pop-up ads etc. While it is possible for these sites to be malicious, you are in fact more likely to run into malware while visiting one of your typical, everyday news or e-commerce sites. Today, a huge number of legitimate websites are at risk of malware. Malware, also called malicious software, has been designed to harm a website and its visitors.
Generally, website malware removal can be performed in two ways.
By scanning the website files using antivirus software before uploading. Removing any Trojan or any adware scripts hiding in the files.
By strengthening your website. This can be done by using the most recent updates in software and also using smart coding. For instance, finding a phishing link/malicious redirect and removing it or SQL injection. Usually, this is slightly difficult to remove and service charges are extremely high.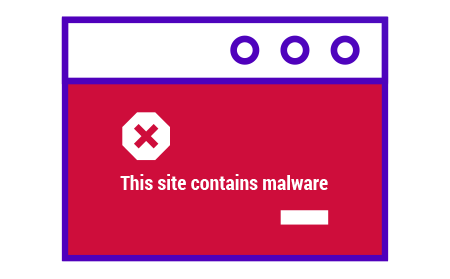 When talking about malware, prevention is better than cure. Hence, use a strong password and detect vulnerabilities in your CMS. Report and fix it. You should also start using smart coding and encryption in order to reduce the chances getting into a website hacked situation.
A complete website security solution will be capable of providing early detection, instant remediation, and proactive preventive measures. With websites always being prone to malware attacks, an efficient website security process will include scanning websites, applications, and servers for malware and vulnerabilities, besides timely detection and prevention of threats and vulnerabilities including malware threats, zero-day vulnerabilities, brute-force attacks, DDoS attacks etc. The focus here is on data protection and also includes sensitive personal data of customers.
Comodo now focuses on eradicating malware from websites, which can stifle e-commerce by eroding customer confidence and safety. This website security service is powered by Comodo's cWatch platform, available with unmatched security operation centers (SOCs) all over the world and best positioned to help fight malware that plagues websites today.
Comodo's SOC analysts are capable of instantly removing all malware from any website hacked situation, repairing hacks, which includes checking the files, databases and any malicious code running to remove malware infections from the site, and keeping the customer fully updated throughout the process.
The complete list of features offered by cWatch is provided below:
Managed web application firewall (WAF)
Real content delivery network (CDN)
24/7 SOC
Website acceleration
DDoS protection
Bot protection
Vulnerability removal
SIEM threat detection
Instant malware removal
Website hack repair
Full blacklist removal
Daily malware and website vulnerability scan
Website Malware Removal Using Comodo cWatch
Comodo's Cyber Security Operations Center (CSOC) provides 24x7x365 surveillance by a team of certified security analysts. The CSOC offers automatic scans with detailed human reviews and also keeps a track of changes. Additionally, CSOC monitors third-party blacklists and blacklist engines extend a customer's internal IT team's capacity to protect websites, applications, systems and networks and manage complicated security incident investigations.
Comodo AVTeam and Research Lab uses all details gathered from all over the world to keep its tools and techniques updated. In this way, the lab will always be ready for upcoming threats and zero-day malware.
The cleanup is remotely conducted using FTP. The analyst will develop backups of all modified or removed files and then remove or patch the content only as required. You will be provided with a detailed report on what has been fixed besides getting back all original files. After cleaning the website, a review will be submitted with third-party blacklists, and the suitable blacklist engines to crawl your website
After correlating all of the details, you will be directed to the main cause and you will also be helped to remediate the main cause to ensure that it does not happen again. You will be provided with guidance that will help you to harden your website after the cleanup in order to prevent future attacks. Comodo's CSOC that works round-the-clock will provide you continuous monitoring and protection services, thus preventing further website malware attacks.
The Comodo malware detection scanning, preventive methods and removal services will allow organizations to adopt a practical approach in order to protect their business and brand reputation from malware infections and attacks and to fix a website containing malware. Comodo cWatch Web can thus successfully detect malware, provide the essential methods and tools to remove it, and also avert future malware attacks even before it hits the network, all included as part of the security bundle.