Web Application Protection
What is Web Application Security?
Web App Protection
Web applications are computer programs that execute a specific function with the help of a web browser as its client. Web applications employ a combination of server-side scripts (ASP and PHP) to manage the storage and recovery of the information, and client-side scripts (HTML and JavaScript) to present the information to users. This permits users to interact with the company using content management systems, shopping carts, online forms and more. Furthermore, the applications permit employees to share information, create documents, work on common documents, and collaborate on projects regardless of device or location.
How does a Web Application Work?
Web applications work in the following manner:
The user accesses a web application through a mobile application or web browser, activating a request to the web server over the Internet

The request gets forwarded by the web server to the web application server.

The web app server performs the requested task (processing the data or inquiring about the database)

The web app server then generates the results of the requested data.

The web server delivers the requested information to the client (mobile device, tablet, desktop, etc.)

The information appears on the user's display.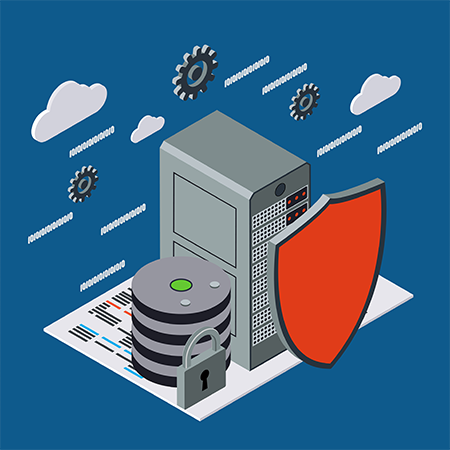 Benefits of Web Applications Security in a Business
Following are some of the key benefits of web applications in a business:
Accessible anywhere
Unlike desktop or client-server applications, it is possible to access web applications anywhere using a PC with an Internet connection. The user can decide which machine he/she desires to use in order to access the web application.
Data gets shared easily between different computer systems
With the help of common internet technologies based on industry-wide standards, it is possible to attain a much greater level of data sharing between applications versus standard isolated desktop systems. It is very easy to integrate an online shopping application with a web-based accounting application, when compared to the process of getting two standard isolated desktop systems to communicate with each other.
Easy and rapid installation and maintenance
Web applications can be installed and maintained in a less complicated manner. Following the installation or upgrade of a new version on the host server, all users will be able to access it instantly. This prevents the need for upgrading each client's PC. The results are more reliable and predictable since the upgrades are only performed by an experienced professional to a single server.
Direct access
With web applications, users will have direct access to the most recent information wherever they are located. This data is always kept updated.
Cost-effective Web-based applications allow users to access the system through a uniform environment. While the user interaction with the web application will have to be thoroughly tested on varied web browsers, the web application itself will just have to be developed for a single operating system. There is no need to develop and test it on all possible operating system configurations and versions. This allows development and troubleshooting to be a lot easier.
Can be effortlessly customized
It is very easy to customize the user interface of web-based applications when compared to desktop applications. This simplifies the updating process of the application, besides providing a novel and exciting way to present data to the user.
Security
Web-based applications are mostly installed on dedicated web servers, which can be supervised by an experienced IT professional. This indeed prevents the need for maintaining several client computers. It is also possible to implement secured connections, thus guaranteeing the protection of all sensitive/confidential company data. The data is very easy to backup and is increasingly secured since it is centralized.
How cWatch Web App Protection Works?
cWatch Web, developed by Comodo, is a Managed Security Service for web applications and websites. This website security tool is available with a combination of a Web Application Firewall (WAF) provisioned over a Secure Content Delivery Network (CDN). It is a wholly managed solution provided by 365 days staffed Cyber Security Operation Center (CSOC) of certified security analysts and is powered by a Security Information and Event Management (SIEM) that has the potential to leverage data from more than 85 million endpoints in order to detect and mitigate threats even before they occur.
This web application protection tool provides the best security via its malware detection scanning, preventive methods and removal services. Vulnerability scanning is also provided for online merchants, businesses, and other service providers handling credit cards online with an automated and simple way to stay compliant with the Payment Card Industry Data Security Standard (PCI DSS).
Get the Best Web Application Protection Services from cWatch Web
Web Application Firewall (WAF): Powerful, real-time edge protection ideal for web applications and websites providing improved security, filtering, and intrusion protection.

Key benefits

Zero-day immediate response
Malicious bot and brute force prevention
Distributed denial of service protection
Stop website attacks and hacks

Security Information and Event Management (SIEM): Advanced intelligence that can leverage existing events and data from 85M+ endpoints and 100M+ domains.

Key benefits

Collects logs and events from operating systems, applications, databases, network and web assets, security devices, and identity and access management products
Executes instant event normalization and correlation for threat detection and compliance reporting
Senses and tracks major incidents and threats, providing links to all supporting data and context for easier investigation
Performs event and flow data searches in both real-time streaming mode or on a historical basis

PCI Scanning: This scanning allows service providers and merchants to stay in compliance with the Payment Card Industry Data Security Standard (PCI DSS).

Key benefits

Potential to scale globally
Full reporting capabilities
A streamlined process for becoming and staying PCI compliant
Potential to scan across an organization's entire network
An additional software license is not required
Centralized management to apply consistent policies across all applications
Quickly resolve vulnerabilities with detailed instructions with verified patches
Manually or automatically submit compliance status reports directly to banks

Secure Content Delivery Network (CDN): Comodo's secure CDN is a network of globally distributed servers designed to bring about improvements in the performance of web applications and websites by distributing content using the closest server to the user and is proven to increase search rankings.

Key benefits

This is the only web services platform developed on security in combination with a fortified machine learning core capable of aggregating, analyzing and syndicating real-time threat data both to and from each of Comodo's secure services.
Unexpected surges in traffic will no longer be a challenge to the server, as the CDN will be able to maintain speed and optimal speed under complicated conditions.
Flexible key and proxy authentication will allow you to protect "premium/paid" content and prevent hot-linking.

Malware Monitoring and Remediation: This layer of protection enables organizations to adopt a proactive approach to protect their business and brand reputation from malware attacks.

Key benefits

Websites are scanned on a daily basis to quickly detect and eliminate malware that could infect the website. This is then accompanied by detailed reports.
Comodo's security analyst will also execute a thorough analysis to detect the root cause and events that resulted in a detection. This will also help organizations to know what processes, files, and registry keys were touched by the malware so that they minimize any downtime.
Threats are stopped even before they could hit an organization's network. This feature also helps in providing early warnings and indicators that will help recognize and block new threats, delivery techniques, and zero-day vulnerabilities.

Cyber Security Operations Center (CSOC): A team of always-on certified cybersecurity professionals providing round-the-clock surveillance and remediation services.

Key benefits

Continuous policy and prevention updates
Blacklist repair
Fully managed WAF
Threat investigations and analysis
Risk assessment reports
PCI compliance and vulnerability scans
Real-time event monitoring
Incident management and response
Expert tuning and configuration management
Reverse malware and suspect application engineering
24x7x365 surveillance by a team of certified security analysts
Related Resources