Securing Offices Around the World:
240.000.000 Office Traffic Monitored daily
1.200.000 Attacks Blocked daily
10.000 + Offices Secured daily
Secure and Control Your Office's Web Traffic
Comodo cWatch Office is a cloud based Security-as-a-Service Solution delivering protection against Advanced Threats and control over web access policies per each device that you own.Easiest way to block Malicious and risky web access and apply company web browsing policy off-premise.Simple yet extremely effective DNS based security for your company.
No Installation. No Hardware
No need to install any management software or tool. cWatch Office is native cloud based SaaS, built on Comodo's anycast DNS infrastructure hosted in 20 + countries.
< 5 minutes to get ready!
It will take less than 5 minutes to start securing all your internet connected devices using cWatch Office.
Block Advanced Threats
cWatch Office blocks Malicious Sites, Phishing, Botnet, Fraud Sites and much more with Comodo's continuously updated Threat Intelligence Service automatically.
Category based Domain Filtering
Using a simple wizard, you can create category based based web access policies per each device. Cwatch Office delivers a daily updated URL Filtering database with hundreds of millions domains.
Monitor Web Traffic
Get full visibility of your web traffic on and off office location. Cwatch Office's simple yet effective reporting service helps you to monitor web traffic per each device.
Blacklist/Whitelist Domains
B/W lists help you block or allow specific domains based on your web access policy per each device that you own.
Simple Laptop/Computer & Workstation Agent
cWatch Office delivers a lightweight agent that can be setup with one click and requires no additional configuration for starting protection against web-borne threats regardless of where they are accessing internet from.
One Click Security for Mobile Devices
cWatch Office delivers iOS and Android Apps for applying your office web access policy and protection against web-borne threats regardless of where they are connecting the internet from. Web security provided with cWatch Office Apps work seamlessly across 2G, 3G, 4G, LTE cellular networks and Wi-fi.
Off-Network Protection
cWatch Office's endpoint and mobile agents help you control over web traffic and protection against advanced threats regardless of where your devices are accessing internet from.
How does cWatch Office work ?
cWatch Office changes the provisioning of internet security for small offices by its' cloud based SaaS model. Traditional solutions require installation of servers and management tools in to company networks so that multiple devices can be monitored from a single pane of glass. Unlike traditional solutions that are hard to install, use and require maintenance plus higher TCO, cWatch Office delivers complete internet security over Comodo's vast DNS infrastructure and requires just a simple DNS change to deliver protection against Malicious/Malware Domains, Phishing, Botnet and all web based Advanced Threats in under 5 minutes with 5 times lower TCO. Moreover, cWatch Office delivers full visibility and actionable insights on Web Traffic created by your office devices, per user, per laptop, router and even mobile devices.
Free for upto 5 devices. No Credit Card Required.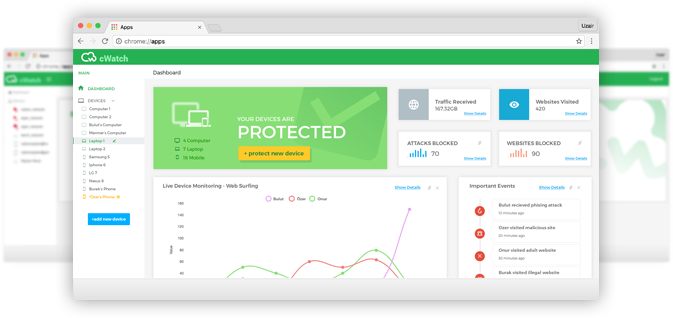 24/7 Live Technical Support
Comodo customers depend on our outstanding and reliable customer service. Our support team exceeds the standards that are set.