You try to visit a Web page and then automatically get redirected to another one – this could be an extremely annoying situation. This approach is sometimes used as a means to direct your attention to an advertisement. There are also times when a hacker could try to install malware or spyware on your computer.
URL redirection, also known as URL forwarding, is a World Wide Web technique for making a web page available under more than one URL address. When a web browser tries to open a URL that has been redirected, a page with a different URL gets opened. Likewise, domain forwarding or domain redirection takes place when all pages in a URL domain are redirected to a different domain, as when wikipedia.net and wikipedia.com are automatically redirected to wikipedia.org. URL redirection is executed for reasons like URL shortening; to allow multiple domain names belonging to the same owner to refer to a single website; to prevent broken links when web pages are moved; for privacy protection; to guide navigation into and out of a website; and for hostile purposes such as malware distribution and phishing attacks.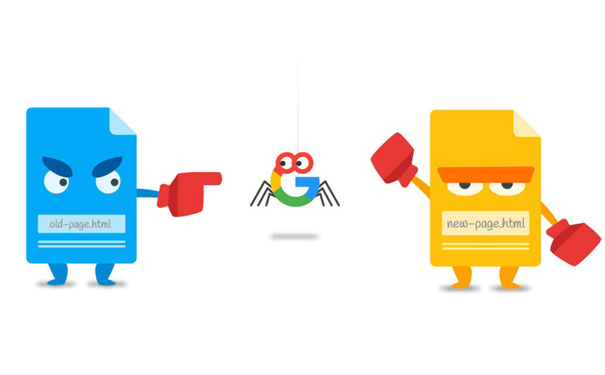 Some of the other reasons why Web users get redirected from one URL include:
A merger of two websites
A change of business name
Landing page-split testing for marketing tests
To direct traffic toward recently updated content
To direct content to a freshly updated domain name
Redirects have also been used to disrupt the results of search engine queries, but most search engines are now able to detect such attempts.
The different HTTP protocol 3xx series codes are the most common ways to redirect a Web page and are embedded in the HTML of the page. Members of this series have the following attributes:
307 is used for temporary redirect, for instance, when a site is being redesigned.
303 acts or displays on the results of common gateway interface (CGI) scripts
302 is for an unspecified redirect.
301 is when a site is permanently moved, such as when a business's name changes.
300 offers multiple redirect choices. For instance, alternative languages can be selected.
When a website visitor gets redirected to a newly named website domain, the website address obtains a new URL. Businesses frequently change their website's original homepage into a redirect page with a concurrent message that briefly describing the redirect. Behind the scenes, a meta refresh tag gets embedded into the website's source code. Regular website visitors would receive a "404 - Not Found" error message without a redirect.
Website redirects mostly happen because of adware and different types of malware existing in your computer. These unwanted programs aim at pointing you towards specific types of advertising or a dangerous code that brings about more damage to your system. The best way to take care this situation is by removing the malware from your computer with the help of a reliable security package such as cWatch developed by Comodo.
Comodo cWatch is a web security tool that has a Cyber Security Center operating round-the-clock in order to monitor websites, handle security incidents, and provide website malware removal help. cWatch can also be used for website scanning in order to check for malware online and also to block all types of attacks like cross-site scripting, SQL Injection, and DDoS attacks to name a few. Thus, the Comodo cWatch Web security stack offers the following layers of protection that will help fix website redirection issues triggered by malware infections and several other website hacked problems:
Web Application Firewall (WAF) Powerful, real-time edge protection for websites and web applications providing improved filtering, security, and intrusion protection.
Malware Monitoring and Remediation Detects malware, provides the tools and methods to remove it, and prevents further malware attacks.
Security Information and Event Management (SIEM) Improved intelligence that can leverage existing events and data from 85M+ endpoints and 100M+ domains.
PCI Scanning Enables service providers and merchants to stay in compliance with PCI DSS.
Cyber Security Operations Center (CSOC) A team of qualified cybersecurity professionals providing round-the-clock surveillance and remediation services.
Secure Content Delivery Network (CDN) A global system of distributed servers to improve the performance of web applications and websites.
Going forward, you can prevent website redirection issues by setting your security applications to automatically update themselves and execute system scans at steady intervals. You can achieve this by installing cWatch that is powered by an enhanced analytics-driven SIEM process capable of examining event data in real time and providing security intelligence for early detection of breaches and threats, rapid incident response times, log management, and compliance reporting.