Website owners should always make sure that their websites are safe for visitors, however, there are a few websites that are just not secure. Unsafe websites are capable of spreading malware, sending spam, stealing your information, and more. It is thus essential to understand that a website takes your safety seriously in order to protect yourself and your personal information. Some of the key tips given below will help you to judge if a website is a fraud, fake, or scam:
Assess the Contact Information: If a website does furnish you with the contact information, write, call or email the website, using their contact details, just to check if it works. Suspect that something is just not correct if you get an automatic voice messaging system, no one answers during business hours, or the number is not in service.
Check if the Login, Create Account, and Payment Pages are Secure: A number of fake websites will not bother to buy an SSL certificate. These certificates secure the transfer of your data every time you submit sensitive information. A site that is not real will often not worry about getting an SSL certificate, because this fake website could probably shutdown within a few months after the fraud has been reported. A legitimate and secure website will thus have a lock icon and HTTPS on the URL.
Check the Shipping and Return Policy: If a particular website is selling a product online, it will indeed have a shipping and return policy listed on its site. A real company will tell you how and where to return a defective product. If the company is shipping a product, it should give you an idea about the arrival date of the product. Refrain from shopping at a website that does not have a return address and one which has an unclear shipping policy.
Check with the BBB: Go to the Better Business Bureau website and check if the company has any reviews. Doing business with a website that has good or even no reviews is better than one which has many negative reviews.
Check Spelling and Grammar: If a website, that is not a real one, is trying to present itself as a Canadian or American business, they will generally use English text. However, it could be possible for you to come across spelling and grammar mistakes on such websites. Many of these mistakes could actually be obvious to a native English speaker. A website with too much spelling mistakes and grammar issues is a definite indication that it is not a real one.
Check the WHOIS: To check who owns the domain, do a domain WHOIS lookup. The result will reveal to you the company that the domain was purchased through, when it was developed, when it expires including contact details.
Domain Name: A lot of fake websites use a domain name similar to a brand name. If a company has a trademark on their name, their website typically matches the company name.
No Contact Information: Websites are considered to be fake if they do not have a contact us page, or if they do have a contact us page and only offer a form to fill up. It is essential that all companies offering services or products should have a place of business (in other words, a location) including a phone number and email address to contact them. If all these details are not available, then understand that could just want your credit card info.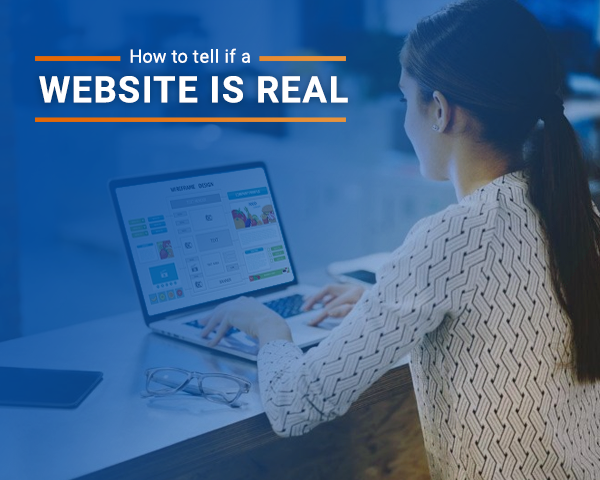 Being a victim of a scam will never be a pleasant experience. If the website you're viewing looks to be suspicious, pause for a moment to research and then investigate it before making a purchasing decision. In simple words, website security is thus a protection tool for your website, web applications and web servers against the increasing sophistication of hacker threats. Installing a complete website security solution will help in early detection, instant remediation and practical preventive measures.
To guarantee complete protection of your site, you will need a website security solution with all the necessary features to combat even the latest threats. cWatch Web is one perfect solution that provides a fully managed security solution so that you don't need the cyber expertise required to combat today's hackers.
As the best security sites tool, cWatch Web has been developed by Comodo and designed into a package where it has Managed Security Service for websites and applications. Given below is a list of the web security features provided by Comodo cWatch that will in securing your website and protecting it against different threats:
Web Application Firewall (WAF)
A powerful, real-time edge protection for websites and web applications providing advanced security, filtering, and intrusion protection
Security Information and Event Management (SIEM)
Advanced intelligence capable of leveraging current events and data from 85M+ endpoints and 100M+ domains
Secure Content Delivery Network (CDN)
A global system of distributed servers to enhance the performance of websites and web applications
Malware Monitoring and Remediation
Detects malware, provides the methods and tools to remove any detected malware, and helps to prevent future malware attacks
PCI Scanning
Enables merchants and service providers to stay in compliance with PCI DSS
Cyber Security Operations Center (CSOC)
A team of always-on certified cybersecurity professionals providing round-the-clock surveillance and remediation services