You will need immediate website repairs when your website is broken. If your website has been marked with the "This website may damage your personal computer" or "This website may be compromised" by Google you will need instant website repair services in order to avoid long-term harm to your business. Some of the issues faced by your website could include:
Malware and Hacked Sites
Blank Pages
Server Overload
SSL Issues
SQL Errors
Form Processing Issues
Script Installation Issues
Permissions Issues
Unexplained Slowdowns
E-Mail Delivery Issues
DNS Issues
Browser Compatibility
Corrupted Database(s)
Internal Server Errors
PHP Errors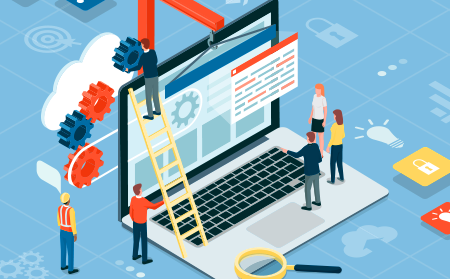 Finding the right website repair and support services company can be an overwhelming task, however, we provide you with Comodo cWatch Web that can help you fix a website by offering website hacked solutions for medium, small and large companies through its fully managed security services for websites and applications. Comodo cWatch Web is considered to be the only solution on the market to combine a complete security stack managed by human expertise all in just a single solution.
Comodo Cyber Security Operation Center (CSOC)
The CSOC has certified security analysts responsible for monitoring, evaluating and defending websites, databases, data centers, applications, networks, desktops, servers, and other endpoints for customers. Employing a state-of-the-art facility and Comodo cWatch technology, the CSOC can identify and examine threats and then execute the required actions that will help maintain optimal security. The CSOC extends a customer's internal IT team's capacity to protect websites, systems, applications, and networks and also handle complex security incident investigations.
Features
Fully managed WAF
Threat investigations and analysis
Risk assessment reports
Real-time event monitoring
Incident management and response
Expert tuning and configuration management
PCI compliance and vulnerability scans
Blacklist repair
Continuous policy and prevention updates
Reverse malware and suspect application engineering
24x7x365 surveillance by a team of certified security analysts
Security Information and Event Management (SIEM) Process
This process can examine event data in real time providing security intelligence for early detection of breaches and threats, log management, rapid incident response times, and compliance reporting. The SIEM is known to be the brain of the web security stack sending alerts to the Cyber Security Operation Center (CSOC) team in order to identify and mitigate threats for a customer before they can even occur, thus enabling them to respond in a more rapid manner to attacks.
Features
Collects logs and events from network and web assets, operating systems, security devices, databases, applications, and identity and access management products
Processes vulnerability data from network, web and application vulnerability scanners
Scans and detects malware embedded in applications
Performs instant event normalization and correlation for compliance reporting and threat detection
Executes activity baselining and anomaly detection to detect changes in behavior related to applications, users, hosts, and areas of the network
Senses and tracks vital incidents and threats, providing links to all supporting data and context for effortless investigation
Web Application Firewall (WAF)
The Comodo WAF has the ability to remove application vulnerabilities and protect web applications and websites against advanced attacks including but not limited to SQL Injection, Denial-of-Service (DDoS), and Cross-Site Scripting. The Comodo WAF, combined with malware scanning, vulnerability scanning and automatic virtual patching and hardening engines, is capable of providing robust security that is wholly managed for customers as part of the Comodo cWatch Web solution.
Features
Distributed denial of service protection
Malicious bot and brute force prevention
Stop website attacks and hacks
Zero-day immediate response
Malware Removal Services
cWatch Web malware removal services via the CSOC will help in eliminating all traces of infections and related artifacts or files, not just the primary source of the infection. Additionally, security analysts will perform a thorough analysis to find the root cause and events that led up to a detection. This will help organizations to understand what processes, files, and registry keys were touched by the malware so that they minimize any downtime.
Features
Immediate alerts and remediation steps
Automated behavioral analysis for zero-day malware detection
Custom scanning capabilities –on demand or scheduled– with unlimited page scans included
Quickly detects and eliminates malware
Blocks malware prior to hitting the network via quarantine management of detected threats
Combines advanced analytics with human expertise
Full reporting capabilities - Site, scan, and summary reports in multiple formats including HTML and PDF
Conclusion
cWatch Web is one whole comprehensive package that will help you to fix a website and prevent further issues, thus protecting your essential data, your identify and several other business-related details. Go in for CWatch and explore a whole new world of services for any issue that could be affecting your website.