Browser redirects are considered to be the most infuriating part of having a browser hijacker or adware on your computer. However, browser redirects can also occur when you visit several suspicious websites and fall victims to their scripts. The key motive behind these redirects is mostly to get the victim to visit pay-per-click websites that drive traffic to third-party domains and eventually drive a lot of traffic to those websites in order to generate income to the ones who cause the redirects.
A malicious redirect is actually a bit of code inserted into a website in order to redirect the website visitor to another website. These malicious redirects are usually inserted into a website with the intent of generating advertising impressions. However, more dangerous outcomes can be caused by malicious redirections. A malicious redirect can go to the extent of exploiting vulnerabilities in a website visitor's computer via web-based scripts to install malware on machines that are not protected. Hence, it is essential to remove malicious redirects from your website.
Several website owners are just not aware of the fact that their website is redirecting visitors. They get to know about the redirection only when a customer complains that they have unfortunately ended up on an unexpected site while trying to visit one particular website. It is also possible for a website owner to even attempt to duplicate the problem, just to ensure that everything looks fine to them on their computer, while website visitors on mobile platforms continue to experience malicious activity. These redirects could happen on some pages or it may happen before the website even gets loaded.
With this brief discussion on website redirects, let's take a closer look on how to get rid of unvalidated website redirects and forwards, and how Comodo cWatch can be an efficient solution to monitor your website's security and prevent website redirects.
How to Prevent Unvalidated Redirects and Forwards?
Chrome
To prevent Chrome from getting redirected to another website without your knowledge:
Click the "Customize and Control Google Chrome" button that has three horizontal lines on it.
Click "Settings."
Click the "Show Advanced Settings" link to display extra setting options.
Click "Enable Phishing and Malware Protection" in the Privacy section.
Close the browser window.
Google will now display a warning if the browser is attempting to redirect you.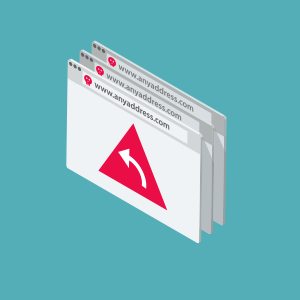 The Chrome Web Store is also available with the Remove Redirects for Google and Fix URL Links Redirect add-ons that can stop browser redirects.
Internet Explorer
Internet Explorer does not have a way to expressly stop redirects. In this case, you will have to limit the whole Internet.
Click the "Tools" button.
Click "Internet Options."
Click the "Security" tab.
In the Security Levels for This Zone pane, set the slider to "High" in order to prevent IE from running ActiveX controls, which is how many browser redirects are executed. However, this may prevent some safe websites from loading correctly. Click "OK."
Mozilla Firefox
Click the "Open Menu".
Click the "Options" button in the panel that opens.
Click the "Advanced" option and "General" tab.
Check the "Warn Me When Websites Try to Redirect or Reload the Page" box in the Accessibility section.
Click "OK."
A few add-ons that can stop browser redirects are also available. They are Redirect Bypasser, NoRedirect, and Redirect Remover.
If you still experience website redirects even after blocking redirects in your browser, then you might have a virus. This is when you will have to download antivirus software. However, you will not just need an antivirus solution but also one that can efficiently help in preventing website redirects and providing you with instant solutions for any type of website related issues. All these features and many more can be obtained from cWatch Web – a website security solution developed by Comodo.
Key Features Offered by Comodo cWatch Web
The following features offered by cWatch web will help in efficiently monitoring your website and preventing your browser from getting redirected to another website
Secure Content Delivery Network (CDN)
This is a network of globally distributed servers to enhance the performance of websites and web applications. One of the key features of this CDN is to resolve website URL redirect issues besides being able to aggregate, examine, and syndicate real-time threat data both to and from each of Comodo's secure services.
Malware Monitoring and Remediation
Virus can also be a reason for website redirects, and cWatch Web will help in detecting malware, providing the methods and tools, and preventing future malware attacks.
Web Application Firewall (WAF)
Comodo's WAF is a powerful, real-time edge protection ideal for your websites and web applications as it provides enhanced security, filtering, and intrusion protection.
Security Information and Event Management (SIEM)
Enhanced intelligence that can leverage existing events and data from 85M+ endpoints and 100M+ domains.
PCI Scanning
This scanning process allows service providers and merchants to stay in compliance with PCI DSS.
Cyber Security Operations Center (CSOC)
This center is made up of a team of certified cybersecurity professionals providing round-the-clock surveillance and remediation services.