Blacklist Scan
Blacklist Scan - How to Check If your IP/Domain is Blacklisted?
Blacklist Scan - Automated bots and malicious hackers are constantly on the run to infect websites with malicious computer code and web-malware, eventually resulting in them getting blacklisted. It is also possible for websites to get blacklisted for other different reasons. A few of these reasons arise from the fact that websites that get hacked are mostly used for launching spam and phishing campaigns, and they are also used for sending emails to Internet users in order to convince them to visit a fake banking website, buy pharmaceutical drugs etc.
All this said, it is hence the responsibility of search engines, browsers manufacturers, and security companies to protect web surfers. With thousands of websites getting blacklisted almost every day, your business site can also be one among these and it is thus your duty to protect your website, its users and all data contained in it. This is a growing necessity if you want your business to grow by maintaining its reputation, drawing in more visitors to your site, and protecting all confidential business and customer data.
Here, we will discuss a few key reasons why some websites get blacklisted and the ideal solution that will help you run an efficient blacklist scan and remove all hidden malware and other website related threats.
Reasons for Blacklisting
It is a well-known fact that websites get blacklisted because they spread malware in the form of worms or viruses, which majorly affect the performance of computers. Given below are a few key reasons why websites get blacklisted: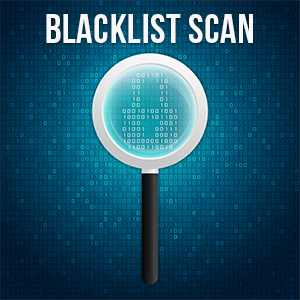 Servers
Servers can expose a specific website to security threats. Most servers on the Internet work on extremely simple and vulnerable platforms like FTP servers. You may also come across issues related to the configurations and setup of these web servers. Most administrators oversee these issues and hence fail to install the exact security mechanisms. This indeed results in hackers easily making their way to the targeted websites.
Insecure connections and password sniffing
Password sniffing is now becoming a common occurrence because of the increased use of FTP connections known for their vulnerability. They make it very easy for Trojans to enter and "sniff" the user's login details which are then used by hackers to access the user's websites and spread malware. People visiting the affected websites expose their personal details and any website related to them will also become vulnerable.
Simple passwords
Using simple and easy-to-guess passwords will make it very easy for hackers to access that particular website. Without any difficulty, they go ahead and compromise its security systems and distribute malware in order to reach sensitive data.
Web applications
Web applications are basically meant to comfort the users' online experience, but they also enable hackers to insert malware into websites. This just proves the point that web applications could turn into a threat if you fail to properly monitor them.
There are several other threats you are vulnerable to as a website owner. However, the main point is that you are solely responsible for protecting yourself and your users from these threats. The worrying factor is that your website has the likelihood to become a haven for hackers and spammers unless you firmly secure the website. It is also your responsibility to keep your website in check and protect the people who visit it.
Several blacklisting services are known for flagging perfectly sound websites with warning signs. Some of these services even block complete access to your website. Getting unnecessarily flagged is a complete business killer and the harsh reality is that it takes place very often. To prevent any further issues, you will need a reliable and efficient website security tool capable of running regular blacklist scans and other related automatic scanning processes that will help protect your website and its customer base. One such security solution is cWatch Web – a managed security service developed by Comodo.
The easiest and quickest way to fix the problem of blacklisting a website is to install cWatch Web that will perform an efficient blacklist scan besides cleaning up your website and preventing the issues from happening again. Experts will check your website for malicious code and viruses, clean the website and then remove the website from all blacklists it was listed.
The Comodo Cyber Security Operations Center (CSOC) is made up of certified security analysts responsible for monitoring, assessing, and protecting websites, databases, data centers, applications, networks, desktops, servers, and several other endpoints for customers. Using a modern facility and Comodo cWatch technology, the CSOC will identify and examine threats and then carry out the actions essential for maintaining optimal security.
11 Key Benefits offered by the Comodo CSOC include:
Blacklist repair
Real-time event monitoring
Fully managed WAF
Threat investigations and analysis
Risk assessment reports
PCI compliance and vulnerability scans
Incident management and response
Expert tuning and configuration management
Continuous policy and prevention updates
Reverse malware and suspect application engineering
24/7 surveillance by a team of certified security analysts
cWatch Web also offers other layers of protection that include:
Web Application Firewall (WAF)
Powerful, real-time edge protection for websites and web applications providing sophisticated security, filtering, and intrusion protection
Malware Monitoring and Remediation
As a web security tool, cWatch will detect malware, provide the methods and tools to remove it, and prevent further malware attacks
Security Information and Event Management (SIEM)
Progressive intelligence that can take care of existing events and data from 85M+ endpoints and 100M+ domains
PCI Scanning
This scanning process allows service providers and merchants to stay in compliance with PCI DSS
Secure Content Delivery Network (CDN)
A global system of distributed servers capable of enhancing the performance of websites and web applications