Blacklist Monitoring
How to Prevent My Website from Getting Blacklisted?
Blacklist Monitoring - Website blacklisting deals with warning and blocking internet users from accessing a potentially threatening website. Websites can be blacklisted for several reasons and the most common causes include the detection of malware and ransomware, spam, unwanted ads, phishing, and redirect behavior. Companies maintaining these backlists are continually crawling the web looking for websites that have been compromised. If they uncover a misleading website, they add it to their blacklist. After your website gets blacklisted, it is essential for you to act quickly in order to resolve the issues. This is vital because allowing your website to exist in this state can be harmful to your organization's online reputation.
Vulnerabilities for Getting Blacklisted
Given below are a few key reasons and vulnerabilities for getting blacklisted:
Your website has been hacked
Your server has a bad reputation
Failing to handle user data securely
Links pointing to questionable sites
Your website is vulnerable to malicious code
Your email strategy is compromised or spammy
Unnecessary popups and overuse of cookies or other scripts
Over optimizing your pages with irrationally high keyword density
Google blacklists your domain because it was previously used to spam people
Using hidden text makes your website to get easily blacklisted by google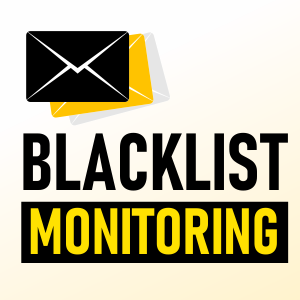 Removing a Website from a Blacklist
After confirming that your website has been blacklisted, you will want to initially debug your website's code, content, and database of any malicious code. This is frequently carried out by your IT Manager or website developer and can actually take several days to complete.
Your domain/IP address name gets blacklisted when it sends out spam e-mails. If your website has been blacklisted, it may not actually be your fault particularly if you are on a shared server. It may be that another website on the server has been persistently sending spam. It is also possible that your website, or another website on a shared server, has been hijacked and used for sending spam.
In case you are on a shared server, you will have to inform your host that the server has been blacklisted and then ask your host to investigate. Generally, it takes 24 hours for your host to remove your website from the blocklist position. Before this, the host will first check to find out which website has been causing the blacklisting.
If your website is identified to be involved, it could be possible for the host to take it offline until you can get a security expert capable of fixing whatever is causing the issue.
However, if your server is a dedicated server or VPS, check with your web host. There is a chance for your host to say that repairing the damage done is in fact your responsibility because it is your private server.
In this situation, the easiest and quickest way to fix the problem is to hire a security consultant who will be able to clean up your website and prevent any further issues. The consultant will normally be willing to contact the blacklisting agency and provide the details that are required to unblock the site.
How to Avoid Getting Websites Blacklisted?
The tips given below will prevent your website from getting blacklisted:
Choose extensions and plugins with caution by sticking to trusted sources. Keep them to a minimum and continue to be updated.
Do not store your backups on your server.
Know your server configuration files.
Use HTTPS/SSL, which is essential for any website that accepts personal data from users. This protects individual users from 'man in the middle' attacks.
Regularly update CMS platforms, software, scripts, plugins, etc.
Do not leave multiple sites vulnerable to a single attack, stick to one website per host plan.
Ensure to protect people's data and your website from malicious entries.
CMS platforms are fine as long as you make sure to understand their vulnerabilities and all their security concerns.
Concentrate on your website's content by not having any duplicate content on your website.
Reduce the loading time of your website.
In case your website has multiple 404 Error pages, get rid of them.
Avoid Keyword stuffing.
Remove the backlinks developed by you which do not relate to the business your company deals with.
Increase the stick rate and reduce the bounce rate of your website.
You can prevent your website from getting blacklisted by investing in a Managed Security Service (MSS) capable of maximizing the value of integration, allowing companies to strengthen their security position, lower their operational costs, and detect issues quicker. One perfect MSS has been developed by Comodo, a cybersecurity company. This ideal solution is called cWatch – a Web security stack that provides you with the most advanced MSS for monitoring and threat management.
As a blacklist monitoring website security tool, cWatch Web protects your website through the Comodo Cyber Security Operations Center (CSOC) staffed with certified security analysts who have the potential to monitor, asses and defend websites, databases, web applications, servers, networks, desktops, data centers, and other endpoints.
Using a modern facility and Comodo cWatch technology, the CSOC detects and analyzes threats, and then executes the necessary actions needed for maintaining optimal security. The CSOC is also capable of extending a customer's internal IT team's capacity to shield websites, systems, web applications, and networks and handle complicated security incident investigations.
CSOC has the following benefits:
Blacklist repair
Fully managed WAF
Real-time event monitoring
Incident management and response
Threat investigations and analysis
Risk assessment reports
Expert tuning and configuration management
Constant policy and prevention updates
Round-the-clock surveillance by a team of certified security analysts
Reverse malware and suspect application engineering
PCI compliance and vulnerability scans
Besides the CSOC feature, this web security tool also provides several other security features that contribute to blacklist monitoring by preventing malware and ransomware attacks, suspicious mails etc. These additional web security features include:
Malware Monitoring and Remediation
cWatch will be able to detect malware, provide the methods and tools to remove it, and prevent future malware attacks
Web Application Firewall (WAF)
This Web Application Firewall (WAF) from cWatch is powerful, real-time edge protection for websites and web applications providing advanced security, filtering, and intrusion protection
PCI Scanning
This essential scanning feature enables service providers and merchants to stay in compliance with PCI DSS
Security Information and Event Management (SIEM)
Advanced intelligence that can control existing events and data from 85M+ endpoints and 100M+ domains
Secure Content Delivery Network (CDN)
A global system of distributed servers capable of enhancing the performance of websites and web applications