It's true that we now live in the age of the internet based on the fact that it is just not possible for an individual to do business without being online, hence keeping your website secure should be a topmost priority. Web security is thus becoming a cause for concern for many businesses. Web security is vital irrespective of the size of a business. It is mostly challenging for a small business to safeguard themselves from a variety of potential cyberattacks as these businesses fail to have the resources to keep up and usually they are not even aware that they have become vulnerable until it's too late.
To understand the need for installing the best web security, let's first take a look at some types of attacks that you will have to protect your website from in order to have a successful business. In almost all attacks, an attacker focuses on stealing and exploiting sensitive data, such as customer credit-card details or a person's credentials, which could later be used to misuse the individual's identity online.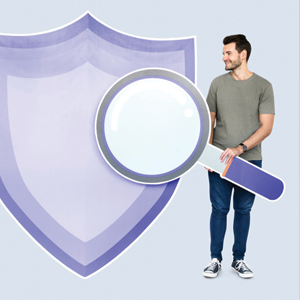 Malware
Malware, specifically designed to infect and harm a system, is a general term covering anything from viruses to advertising software (adware). It has the potential to force the user into a network of other hacked devices remotely controlled by the hacker. These networks are mostly used for DDoS attacks.
Inside attacks
This is an attack in which someone, mostly from within an organization, deliberately misuses their credentials just to obtain access to sensitive company information.
Distributed Denial of Service (DDoS)
This attack sends loads of requests or traffic that overwhelm the system and takes it offline and could also disturb other websites on the same server.
Password attacks
This website attack involves guessing at passwords or using a dictionary program to attempt varied combinations until the hacker gets in. Keylogging software capable of tracking all of a user's keystrokes, including passwords and login IDs sends them back to hackers.
Injection
This attack involves exploiting the website to ruin or gain access to data. This is a targeted attack that aims at weakening your clients' trust in your business, or maybe something politically motivated to further someone else's message.
Phishing
This attack exploits a user's trust just to attain personal details, financial information or login details. This can be used to get access to email inboxes or several other areas protected by passwords.
Spam
This is a type of website attack that sends out emails containing advertisements and phishing scams. Messages are mostly sent out repeatedly and in huge quantities, and these messages can be sent to any email address including those linked with your website or hosting. Spamming can also cause your server to get blacklisted, preventing you from sending genuine emails.
To protect your website from the above-discussed threats, the following section outlines some of the best website security precautions to keep your website safe from hackers.
Best Web Security Practices
Firewalls
Using a firewall is considered to be one of the most common ways to stop website hacks.

Web Application Firewalls: These firewalls are responsible for securing your specific website. It blocks malicious scripts and traffic even before they can reach your web server and attempt to compromise your site. Blocking this traffic improves the safety of your website and also saves load time and bandwidth on your web hosting account.
Network Firewalls: These firewalls are used by web hosting providers or those managing their own servers. They help detect and block malicious scripts between individual web servers within their network.

Website Backups
Website backups are a vital necessity because if you experience a hack or things go wrong while updating software, you will have easy access to a clean version of your website. These backups should be done regularly. There are few hosting providers who can do it for you but remember that there is always room for improvements no matter how much you protect your website. A website backup should include all of the following:

Plugins
Themes
Files
Databases

Strong Passwords
Using unique passwords for all websites, social account, or any online account is just as critical as framing a strong password. A strong and unique password should have a combination of special characters, numerals, and lower and upper-case alphabets.
Continuous Monitoring for Malware
You will have to continuously monitor your website because malware is known for its elusiveness and potential to hide from you as a website owner. It is indeed possible for you to visually look for signs of malware infection, but it is always far better to use an automated scanner as a much more effective security measure. Automated website scanners are now provided along with web security tools that can monitor your website for potential threats on a regular basis.
All these web security measures are available in one comprehensive web security tool called cWatch Web – a product from Comodo. Investing intelligently in a Managed Security Service (MSS) like cWatch will help in maximizing the value of integration and will also help companies to boost their security position, identify issues quicker, and lower their operational costs.
Comodo cWatch Web is available with the following key features:
Malware detection scanning, preventive methods and removal services
Rapidly detects and eliminates malware
Instant alerts and remediation steps
Automated behavioral analysis for zero-day malware detection
Custom scanning capabilities with unlimited page scans included
Complete reporting capabilities and provides reports in different formats including PDF and HTML
Blocks malware prior to hitting the network via quarantine management of detected threats
Web Application Firewall (WAF)
Regular updates of virtual patches for all websites under management and instant response to apply a patch for the zero-day attacks when they become known to the public.
Malicious bots and brute force attacks are blocked from websites.
Protects vulnerable websites by detecting and removing malicious requests and thwarting hack attempts.
Globally-distributed Anycast network enables efficient distribution of traffic.
Cyber Security Operations Center (CSOC)
Real-time event monitoring
Continuous policy and prevention updates
Fully managed WAF
Threat investigations and analysis
Risk assessment reports
PCI compliance and vulnerability scans
Blacklist repair
Incident management and response
Reverse malware and suspect application engineering
Expert tuning and configuration management
Round-the-clock surveillance by a team of certified security analysts
Security Information and Event Management (SIEM)
Scans and detects malware embedded in applications
Performs instant event normalization and correlation for threat detection and compliance reporting
Collects logs and events from network and web assets, operating systems, applications, security devices, databases, and identity and access management products
Processes vulnerability information from network, web and application vulnerability scanners
Reduces billions of events and flows into a handful of actionable offenses and prioritizes them based on business impact
Senses and tracks major incidents and threats, providing links to all supporting data and context for easier investigation
PCI scanning
Potential to scale globally
Centralized management to apply consistent policies across all applications
Quickly resolve vulnerabilities with detailed instructions with verified patches
Complete reporting capabilities
Streamlined process for becoming and staying PCI compliant
Potential to scan across an organization's entire network
No additional software license needed
Automatically or manually submit compliance status reports directly to banks
Secure Content Delivery Network (CDN)
Website data is copied to 29 locations all over the world guaranteeing that data has shorter distances to reach a customer wherever they are and providing a faster experience.
Search engines reward websites using CDN with higher rankings on search results.
Leverages compression and browser caching technology to save on bandwidth usage and costs.